How Puzzle Michele Wilson does their wooden puzzles
Octubre 11, 2021
Autor: Jimena G.
---
We have come to Paris for a weekend and on our last day, to say goodbye to this beautiful city, we have been visiting Puzzle Michèle Wilson's store on Avenida Emile Zola. You cannot imagine how excited we were to come to this store; Michèle Wilson's puzzles are known worldwide for their high quality and the unique cut that their pieces have. We have made a few puzzles of this brand, and it is a totally different experience than assembling a cardboard puzzle and even a laser-cut wooden one.
Going to Paris and not visiting any of the Puzzle Michèle Wilson stores is a sin. If you still do not know this brand of puzzles, we present it to you; they are handmade wooden puzzles, with a unique piece cut designed to enhance the beauty of the image.
Founded in 1975, the entire process is handmade, from gluing the image, cutting the pieces, and packing the puzzle.
---
In addition to their online store, they have two stores in Paris:
39 Rue de la Folie Méricourt - You can see how the artisans cut the puzzles
97 Av. Emile Zola - It is the main store and the one that we visit.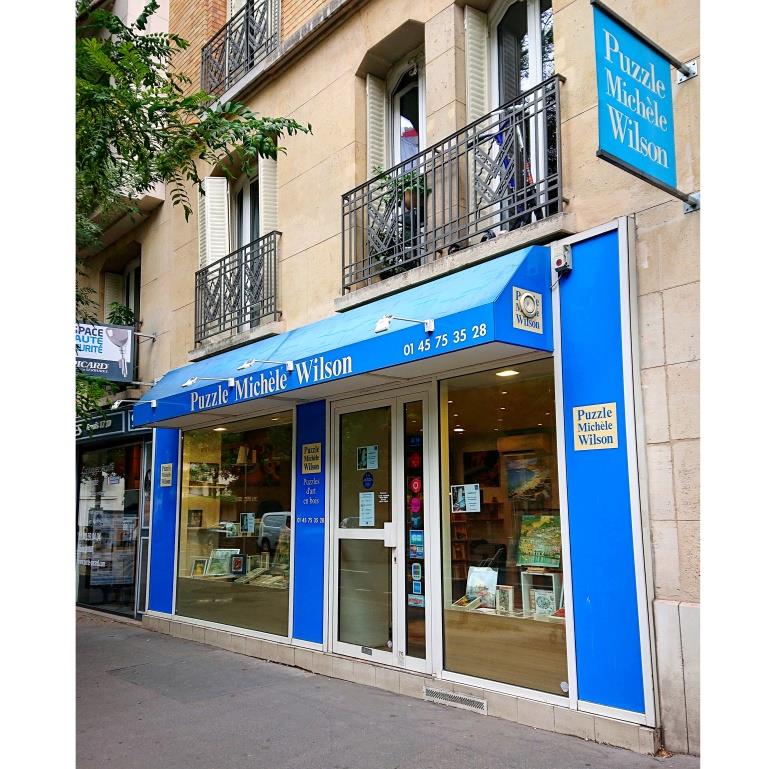 Michèle Wilson's store on Av. Emile Zola
When we got to the store, we were attended by the craftswoman Louise Larthier. She explained the process of producing the puzzles, very kindly answered all our questions, and even demonstrated the cutting of the pieces. After this visit, I think Michèle Wilson's puzzles are even more special, and I can't wait to do one and notice the differences.
I am deviating from the topic, so I will tell you about the production process of these puzzles. The printing and gluing of the images to the wood is carried out in the Chalon sur Saône workshop. The wooden boards are sent to their stores in Paris, where they are classified by artist and image.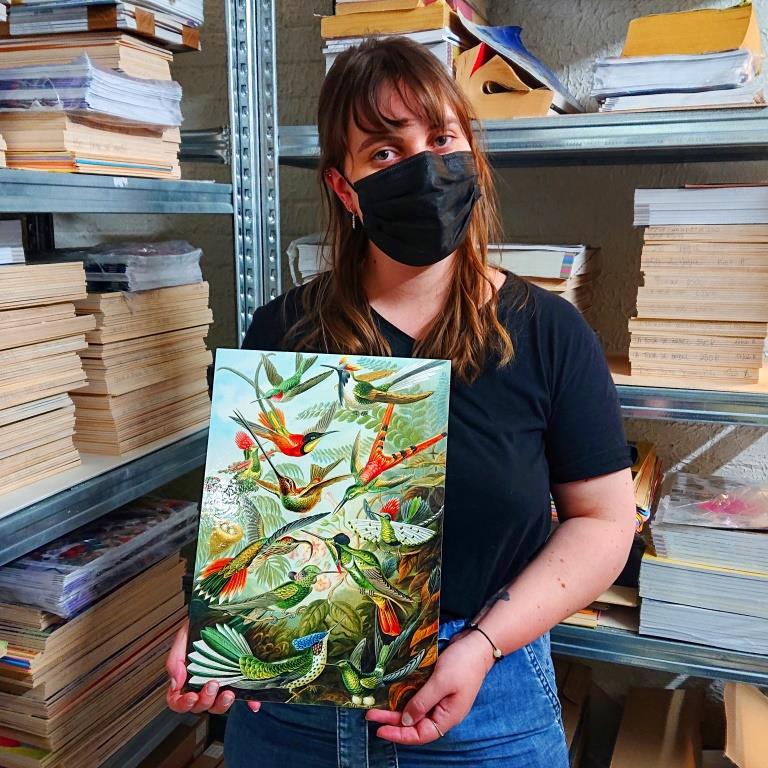 The craftswoman, Louise Larthier, with a board prior to cutting.
---
Each craftsman cuts the pieces in their own style, some with more curves, more "traps", and each one has their favorite artists. Louise likes images of Van Gogh, and being able to cut the puzzles with his images makes the experience more than a job, a moment to enjoy, innovate and create exceptional pieces. Louise is one of the new additions to the company, she was previously a seamstress, and after 6 months of training, she is now one of the artisans at Puzzles Michèle Wilson. She described the process of cutting the puzzle as "deconstructing and reconstructing the image."
---
Each puzzle cut is unique, does not follow any pattern, and is influenced by the craftsman's cut form and the image of the puzzle, which can make assembly up to three times more difficult. Besides this, there is a game between the craftsman and the puzzler. The craftsman, influenced by his own cutting technique, mood, and intention for this cut, and the puzzle maker who encounters a totally unpredictable cut.
The puzzles are cut with a jigsaw on a poplar support, in an old-fashioned way. The puzzles are prepared for cutting, 7 identical boards, with different colored paper on the back to identify each one. They are stacked and started to be cut with the jigsaw. As the pieces are cut, they are placed on sieves to eliminate the wood residues. An essential detail is that the pieces are cut following the image to highlight their beauty.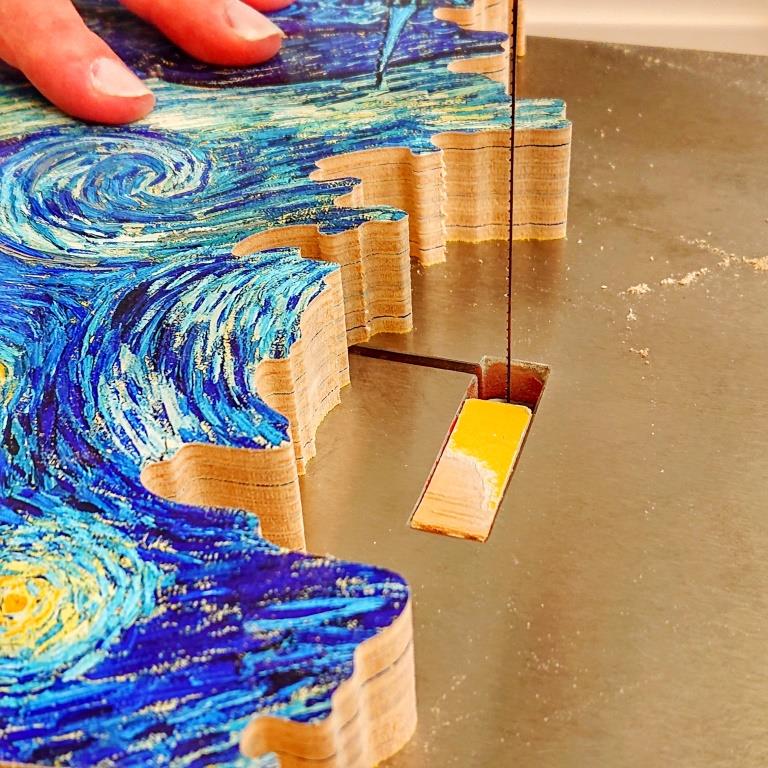 Cutting by hand, on a jigsaw, Van Gogh's "Starry Night".
Video of Louise hand-cutting pieces of Van Gogh's "Starry Night" puzzle. You can see the 7 boards being cut simultaneously and the reverse of different colors.
At the end of cutting the puzzle, pieces are separated following the color on the back, then it is reviewed a second time to avoid errors. Later they are packed in transparent self-adhesive bags and stored in beige boxes with gold lettering. The limited-edition Blue Collection (Bleue) is the only one that is packaged in blue boxes. There is a fun collection: the Cuzzles, 30-piece puzzles that come in tiny transparent cubes. As I said before, the whole process is entirely manual.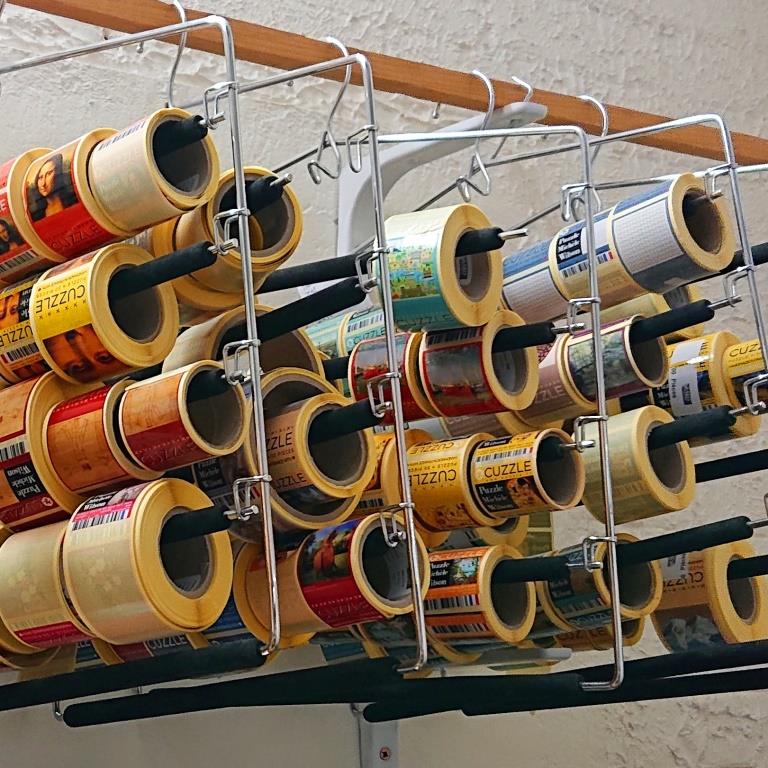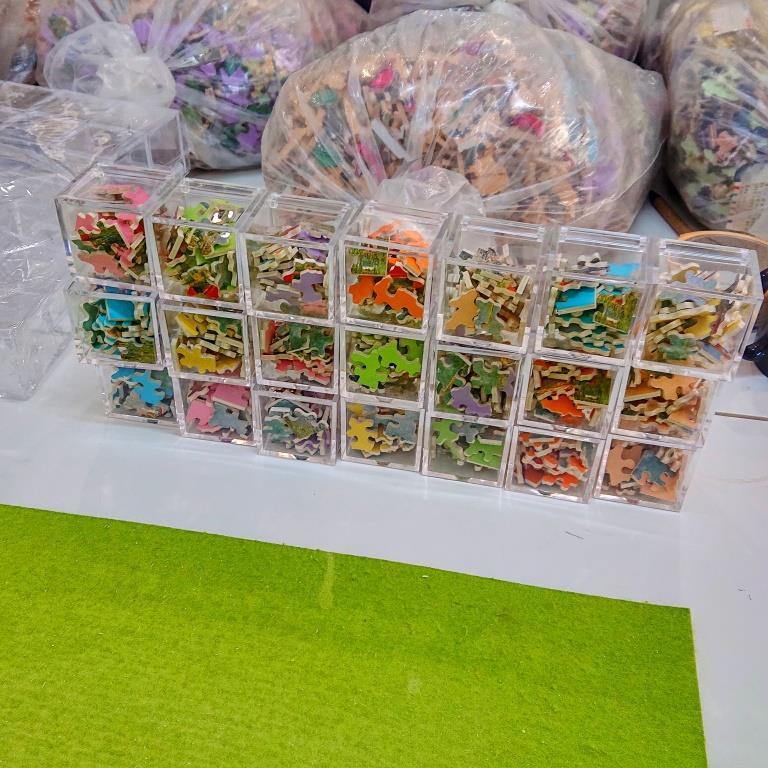 Boxes of Cuzzles prior to label placement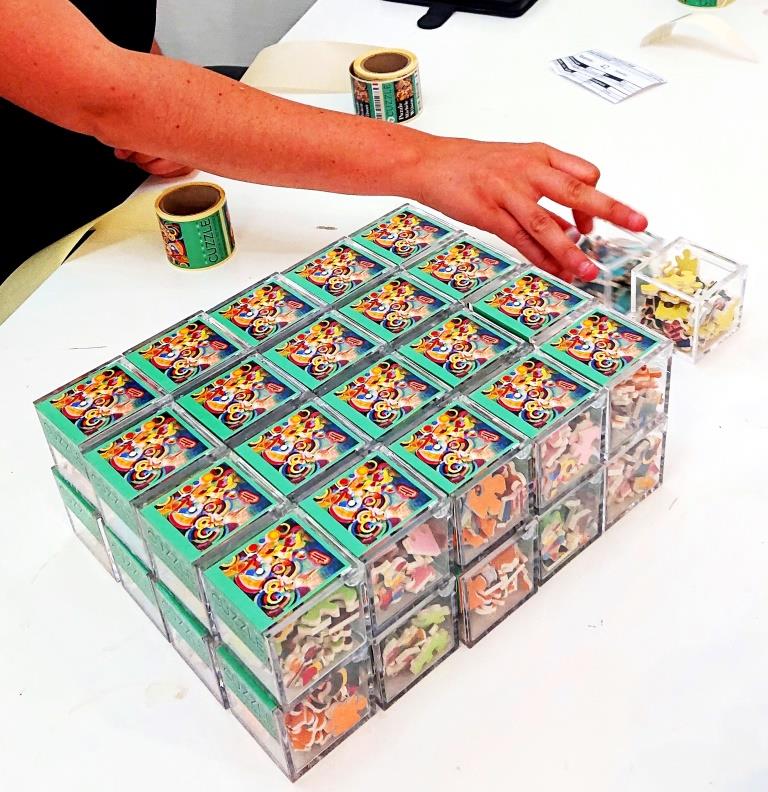 As for the pieces, I can tell you that the shapes are completely different from any other puzzle you have made. They are very rounded and do not have projections or recesses like cardboard, and, above all, when following the image, they sometimes surprise you because they go in unexpected places. My advice to enjoy your assembly, even more, do it on a rough surface like felt or, my favorite, velvet.
As you can imagine ... we made a few purchases before we left, it was impossible to resist with so many beautiful puzzles.
We have brought home a Van Gogh puzzle, Louise's favorite, as a souvenir of her visit to the store and how kind she explained everything to us. We have also brought one from the Colección Bleue, which is limited edition and changes each season, and it is characterized by having colorful and modern art. As expected, we brought one with the most challenging image in their catalog... a Monet. And finally, a Cuzzle with a hilarious image.
What are you waiting for to try one of  Michèle Wilson's wooden puzzles?
---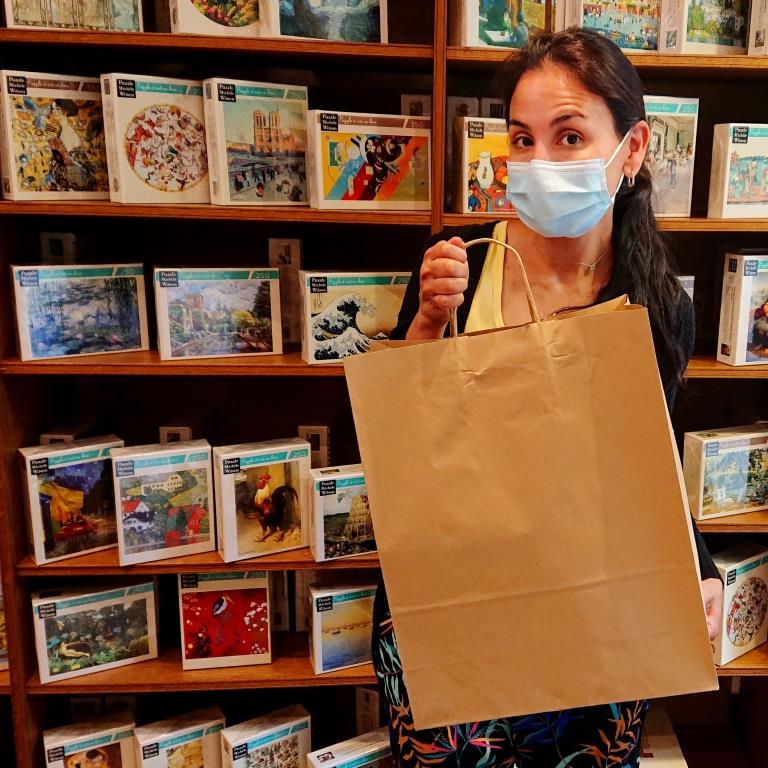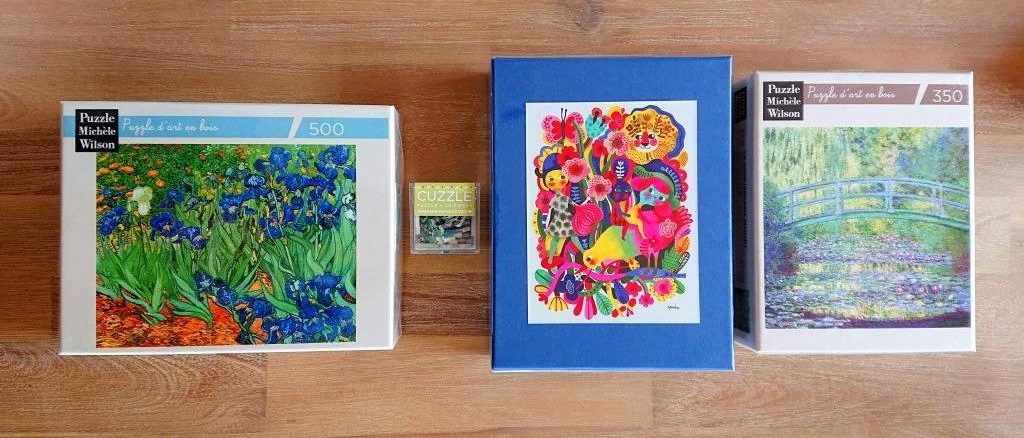 These are the puzzles by Michèle Wilson that we brought home:
1. Les Iris, Vincent Van Gogh, 500 pieces
2. Followers, from the 30-piece Cuzzle collection
3. Rainbow Bird, by Helen Dardik of 300 pieces. From the Bleue Collection
4. The Japanese Bridge, by Claude Monet, 350 pieces. Perhaps it is the most challenging puzzle of this brand.