"La Fiesta del Puzzle" (The Puzzle Party), more than a book
March 11, 2020
Author: Jimena G.
---
For several years we have read the ingenious narratives that Alejandro Darias Mateos offers us after each puzzle event he attends. After his surprise return in 2016 to the Spain Puzzle Championship, in which he was part of the Top Ten both individually and in couples, he has remained active in the puzzle world. Currently, he continues to compete, but he has also organized three editions of the Viladecans Puzzles Contest, is the editor of the second AEPUZZ magazine (published in January 2020) and is currently a Speaker of the Spanish Puzzles Association - AEPUZZ.
Now he presents his first book "La Fiesta del Puzzle" (The Puzzle Party), in which he shares his tricks to improve the technique for assembling puzzles, gain speed for the championships and also tells us events and experiences lived in his more than 40 years of
puzzle life.
We have asked some questions to get to know Alejandro a little more.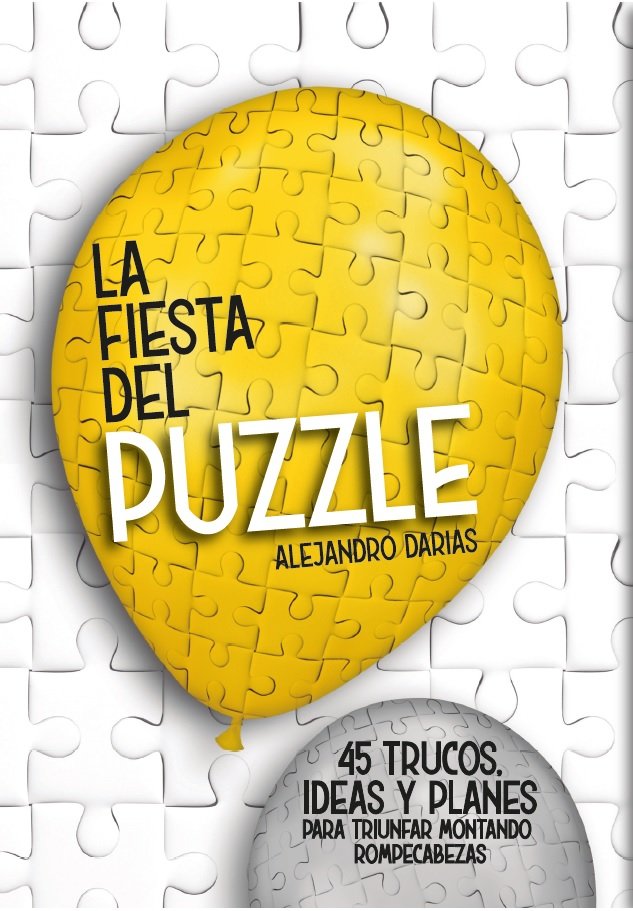 How long have you been in the puzzle world? How did you start?
---
The first clear memory I have with a puzzle is when I was seven years old. I was trying to assemble one of 220 pieces puzzle of Cala Figuera de Mallorca by the brand Educa. The puzzle was a landscape with sky, mountains of green, a river and houses in the foreground, and I could not finish the assembly because it didn't clear up with the division of the sky and mountains, curiously the easiest part. Then, I was already determined not to start the puzzles by the edges. At home there was a certain puzzle tradition on my parents' behalf, who had bought many at the historic Portuguese House of Santa Cruz de Tenerife, my hometown. I don't have in mind that my parents put a puzzle in front of my eyes, but I guess those toys had to come to my hands sooner or later by osmosis.
That was in the late 1970s, so I've been in the world of puzzles for more than 40 years.
---
How have the puzzle contests evolved since your debut so far?
---
The results of the contests were not usually registered (except in cases such as the competitions at Puzzlemania or Castejón), and it was only the journalistic eagerness of some fans that preserved that information to the delight of current followers.
Only from 2013 through AEPUZZ the first exclusive computer system for contest management was automated, almost 30 years after my competition debut. And in recent years, apart from the fact that the number of registrations has been increasing exponentially, the "show" has been added to the cake, matching the competitions to any relevant media event, with broadcasts, shows, interviews. ...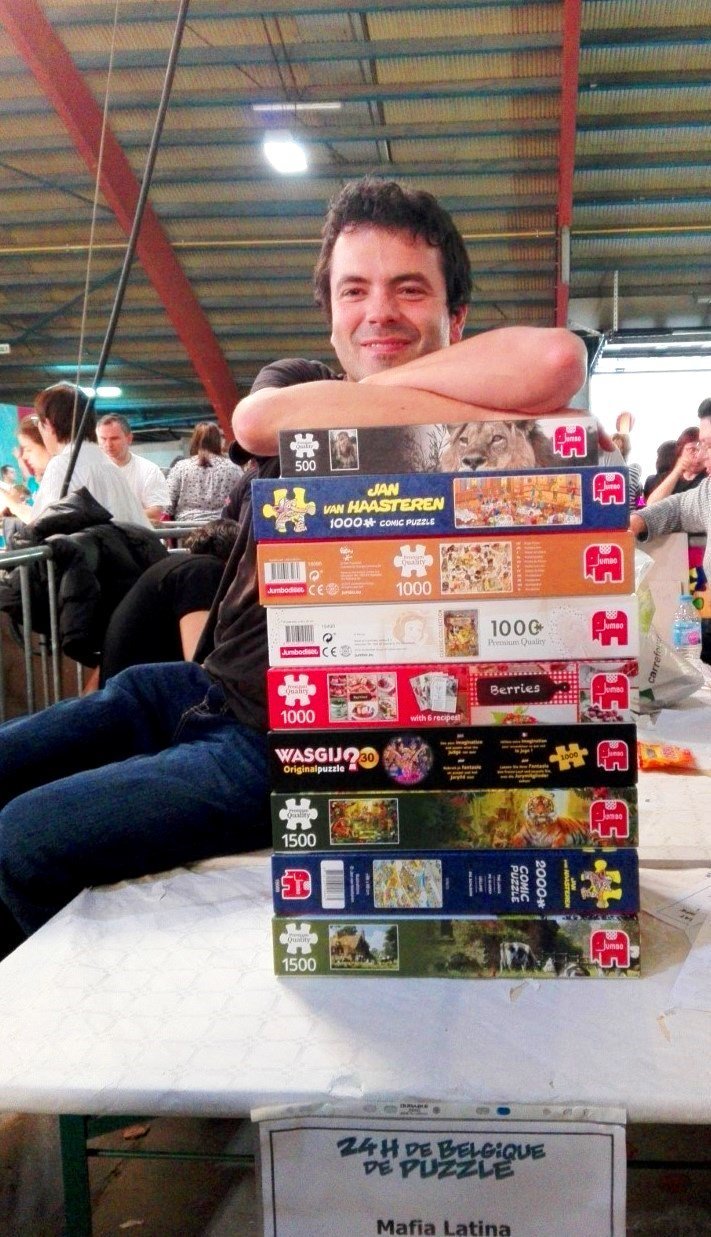 *During the 24 h of puzzle in Belgium, 2019.
---
---
Contrary to what many may think, I belong to a fairly calm line of puzzle players. I do puzzles when I feel like it, when I have room to do them and for that reason maybe I have not put myself during a good season to do one after another. Maybe I can be putting puzzles together non-stop for a month or two, and then leave it for a few months and come back again ... And in the passage to adulthood, I practically set them aside for many years. During my life, I will not have assembled more than 120,000 pieces, which is quite little compared to other inveterate fans, who go from 400,000 to similar ages.
---
---
I have a special love for art puzzles, in addition, with a lot of difference from those of other typologies. And my favorite strip is 5000-10000 pieces, maybe because I can assemble them with a cardboard hustle. My favorite puzzle is without a doubt "The Shootings of May 3rd", the immortal painting by Goya, an 8000-piece puzzle by Educa from 1988. I have never enjoyed so much putting together another puzzle.
Do you have many puzzles? Where do you keep them ... or hide?
---
---
What does your spouse think about the whole theme of the puzzles?
---
My wife has officially assembled two puzzles in her life: the 1500-piece Educa from Picasso's painting "Lovers", the 1000 Panorama by Educa "In the company" of a litter of golden retriever puppies (my birthday present), and apparently a 1000-piece puzzle of Neuschwanstein Castle by from a chinese store. Therefore, it cannot be said to be a beginner. However, she has never build one by herself, since I met her. On one occasion she was about to compete with me at a Pineda de Mar event in 2017, but he caught a cold a few days before the championship and I had to get another puzzle couple, which has ended up being a long-term partner. Precisely the author of this interview!
---
What other hobbies do you have besides the puzzles?
---
I also participate in chess competitions, especially in the Catalan League and fast competitions in summer tournaments. Twenty years ago I played futsal, but a knee injury made me quit. I am an unconditional and hardcore follower of Real Madrid soccer team. I love rock music, especially in the 60s and 70s, and I have a special affection for the eighties sounds because they marked my adolescence. And obviously I also love to write, especially short stories.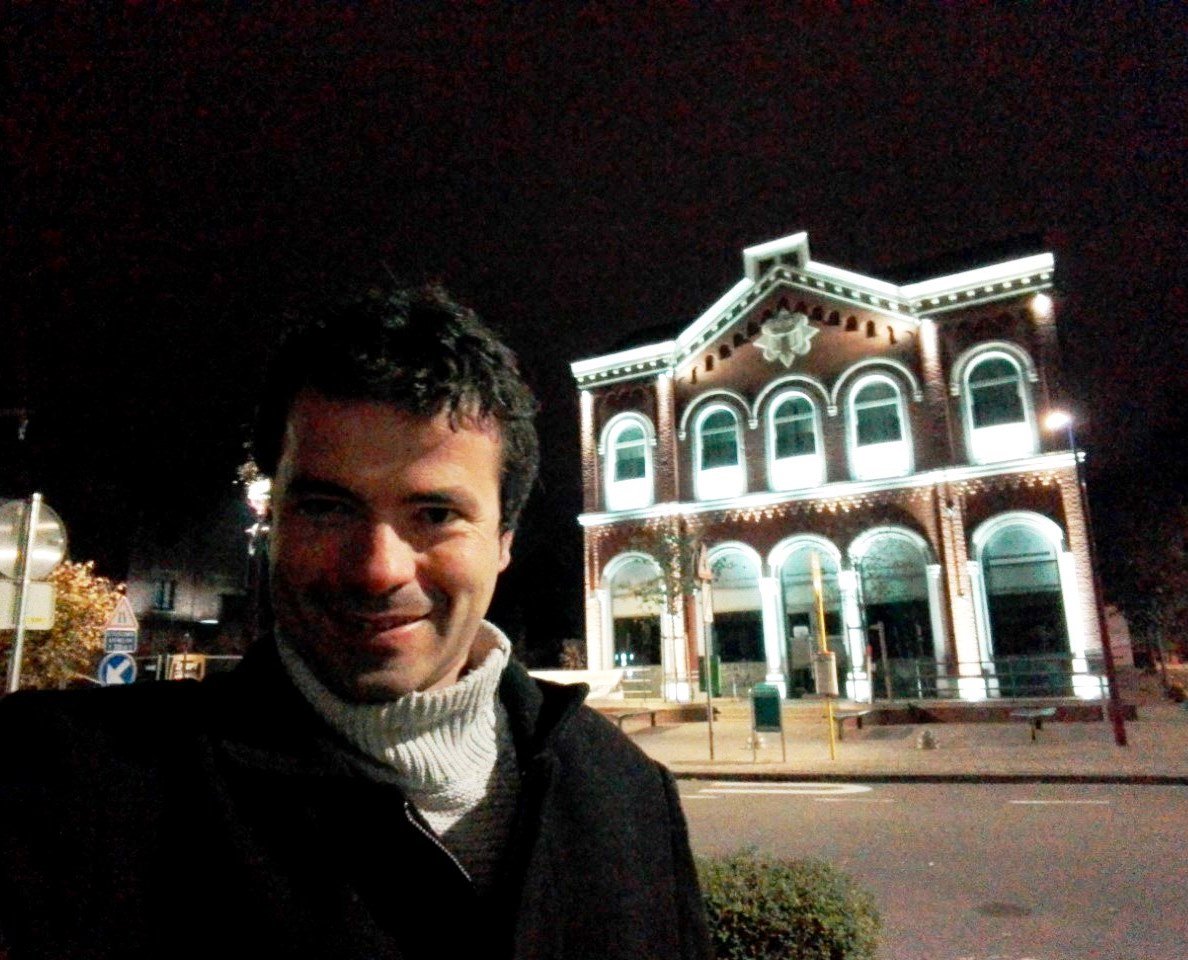 ---
Llevaba años queriendo publicar una "obra grande" después de haber conseguido ganar algunos concursos literarios y ser mencionado en otros, con publicaciones en algunos libros recopilatorios. Pero no sabía cómo enfocar la temática, ya que el mundo está lleno de novelas y de escritores de ficción y mi aportación sería un grano de arena más en la playa. Y en unas vacaciones en Galicia de 2016 (un año después de enterarme de que existía AEPUZZ, la Asociación Española de Puzzles), hallé por fin el binomio. Puzzles + libro. Nadie lo había hecho antes en idioma español. ¿Por qué no podía ser yo el primero? Al regresar de esas vacaciones de verano en Galicia, sabía que ese libro tenía que ver la luz como fuese.
---
¿Cuánto te ha llevado hacerlo?
---
Since I had the first idea to write it (that spark in the Ría de Arosa) until the press sent me the boxes with the first edition, 3 years, 5 months and 24 days.
---
What can you tell us about the book?
---
It is a book in which all puzzle fans can find something with which they feel identified, even those who do not like puzzles: The lonely home assembler, the inveterate contestant, the bon vivant that is always partying, the suffered organizer, the one that holds a record between eyebrow and eyebrow, the one that doesn't stop getting stuck with the skies, vegetations or that does not distinguish the zippers of the "normal" pieces, the one who wants to find out things about the champions and people who has met on forums or events ... Everyone can learn something in the book, from newbies to champions, and myself as an author I must be the first user.
Technically, "La Fiesta del Puzzle" (The Puzzle Party) is divided into three parts: one full of tricks to assemble puzzles at home, another to increase the speed in the championships, and a third that teaches all the existing events in Spain (the epicenter of the today's puzzle competition with a lot of difference from other countries) and with the addition of the unforgettable appointment of the 24 Hours of Hannut in Belgium.
---
Of course, and I'm already sketching and planning investigations, interviews in order to make it happen. There were many topics that remained pending for "La Fiesta del Puzzle" (The Puzzle Party) that I would have liked to analyze further. Some people have said that they don't understand how a theme like "puzzles" can give so much of itself for such a voluminous book, but it is a totally new world with a really exciting and exciting future. No one is able to predict what awaits us at the events in the next ten years.
---
Finally, do you think that puzzling is a hobby, or a sport?
---
Both. It is a hobby for the fan who assembles puzzles at home or with friends to get distracted, avoid problems or exercise the mind, and it is a competitive sport, such as chess or billiards. There is a lot of controversy in the meaning of the word "sport" because it is always associated with the physical plane, but the mental and consequently physical wear and tear produced by a time trial or resistance competition are indisputable.
---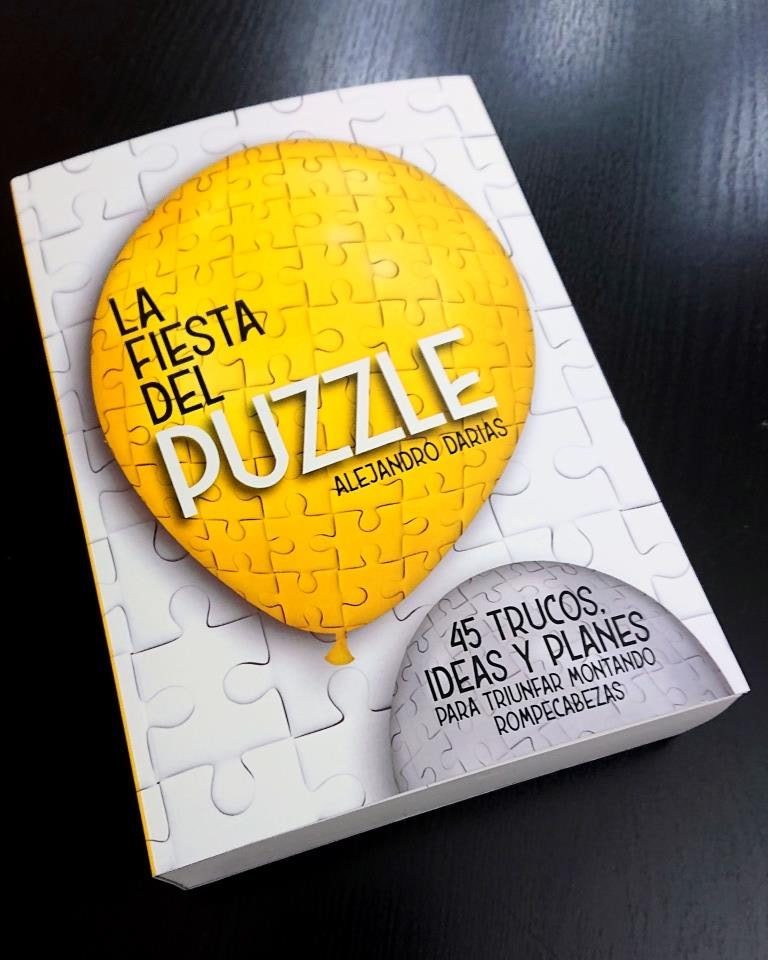 You can purchase the book by writing an email to lafiestadelpuzzle@gmail.com. They make national and international shipments. The retail price is € 28.
Also in the following physical points:
Barcelona: Puzzlemania. Calle Diputació, 22.
Madrid: J de Juegos. Calle Menorca, 36.
Valladolid: Librería Margen. Calle Enrique IV, 2.
A Coruña: Dr. Panush. R/ Santiago Rey Fdez. Latorre, 49.
Abrera (Barcelona): Librería y Papelería Abrera. Rambla Torrentet, 12.
Andorra: Puzzle Locura