YEAR SUMMARY:
2020'S PUZZLE STATS
January 5, 2021
Author: Jimena G.
---
To start 2021 we wanted to share with you a summary of the year and our puzzle activity. In 2020, we have made 113 puzzles with a total of 101,515 pieces. For 3 years we have been keeping track of our puzzles and we can tell you that this has been the year that we have reached the most pieces and puzzles, it has also been the first time that we have exceeded 100,000 pieces.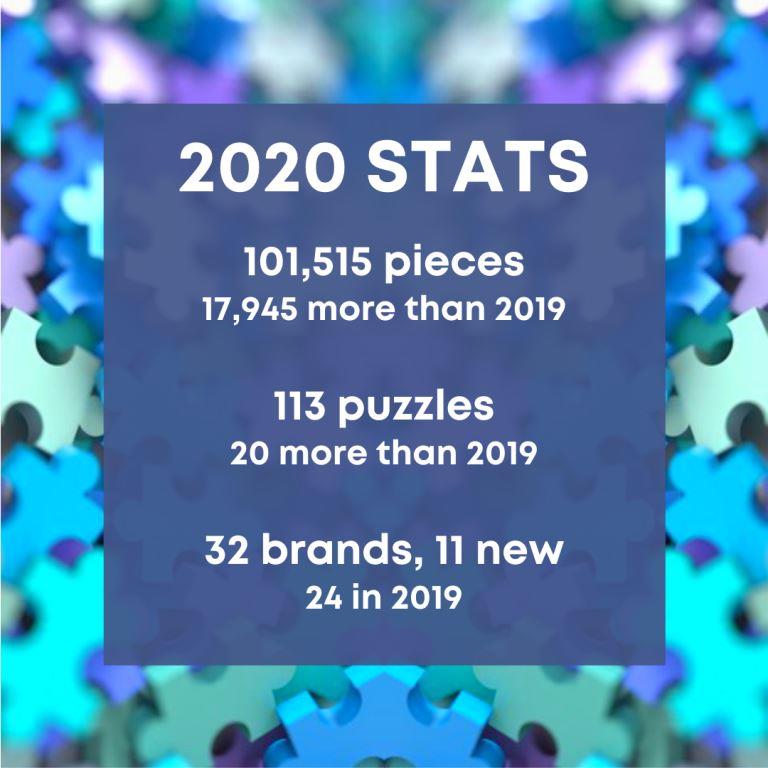 ---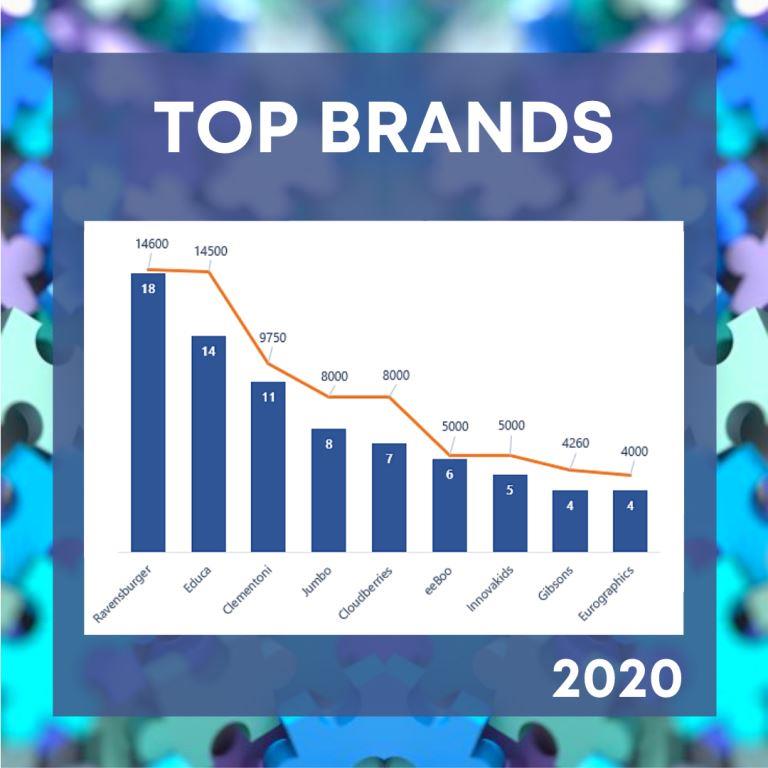 Starting with the trends per month, with the beginning of the confinement we assembled more puzzles than in the rest of the months. April was the month with the highest number of puzzles done, 17; and in March and April 14.
Many of you know that I work in healthcare and we did not have the opportunity to comply with the confinement due to work, but the puzzles helped me more than ever to release the stress of that moment and still do. I always do the puzzles at the end of the day, to disconnect from work, release stress, and go to bed relaxed. This year I had thought about the many benefits of this hobby, so much so that I have collected many of them in this article.
Many of you have asked me at some point what is the puzzle size that I do most of the time and without hesitation, I would answer that they are those of a thousand pieces, followed by 500 pieces. Well, here I bring you a chart where you can look at it. This year I have made 66 puzzles of 1000 pieces, 20 of 500, 5 of 1500 pieces, and 3 of 2000 and 300.
In the end, what I am looking for is a puzzle that I can solve in 1-3 puzzle sessions. Honestly, I think it's because of the feeling when I finish a puzzle… between satisfaction, joy, improvement, and gratitude. Making a large puzzle certainly gives more satisfaction, but it takes longer and takes more effort, time, and space. Next year I will have a bigger puzzle room and we'll see if it affects this result.
---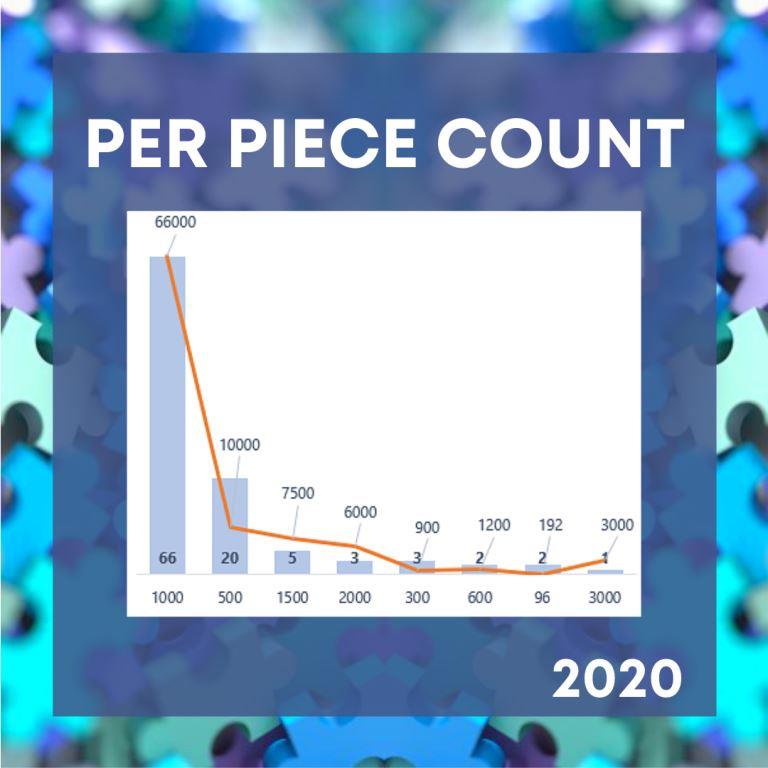 ---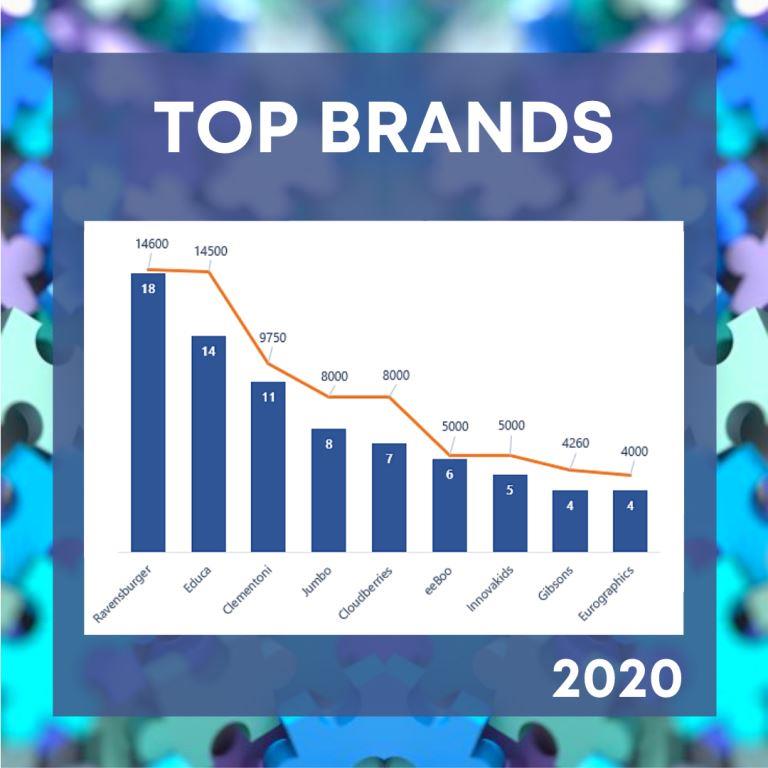 The top brands I used have been Ravensburger (18 puzzles), followed by Educa (14) and Clementoni (11 puzzles); without a doubt, because they are also the most common brands in our collection. The fourth brand is Jumbo, with which we had a peak in August and September while practicing for the 12 hours of Puzzle of Belgium that took place online.
The fifth brand is Cloudberries and the sixth, eeBoo; two brands that have become great favorites in our house. Excellent quality, impeccable aesthetics, and surprising novelties have made that since we know them, we always have them in our mind when choosing a puzzle.
Throughout this year we have tried puzzles by 32 brands, of which 11 of them were new to us. With the number of new brands that have emerged during confinement, we hope to exceed this number and be able to bring you information about them.
The 32 puzzle brands that we use this year have been, in alphabetical order:
Art & Fable
Blue Kazoo
Castorland
Clementoni
Cobble Hill
Educa
eeBoo
Eurographics
Falcon
Gibsons
Grafika
Hema
Heye
Innovakids GmbH
Jumbo
I have to say that during 2020 we've tried very special puzzle brands, round like Blue Kazoo's, with types of grids that add difficulty like Sulo Puzzle, the highly anticipated Gibsons Advent Calendar, iridescent like Wave Puzzle, and even with a velvet touch like Art & Fable.
Of these 32 brands, the ones we tested for the first time were, alphabetically:
Art & Fable (This week we will have the review available)
Blue Kazoo
Grafika
Kindertraume GmbH
Nathan
Puzzelman
Tiger
Waves Puzzle
* If you click on the ones with a different color you can see a review of the puzzle and in our blog, you can see several reviews of different brands.
---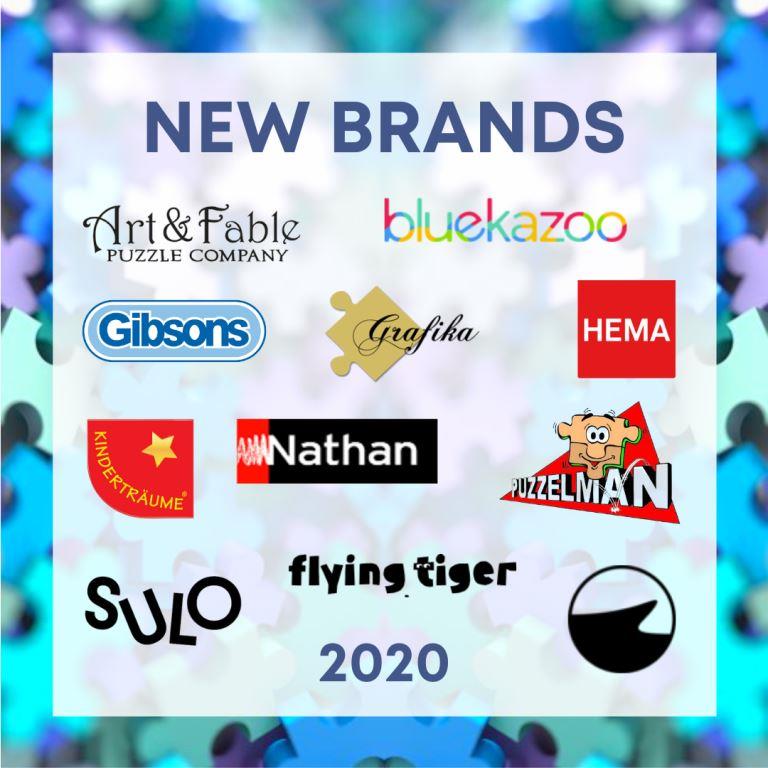 If we had to pick our 10 favorite brands for this year, they would be: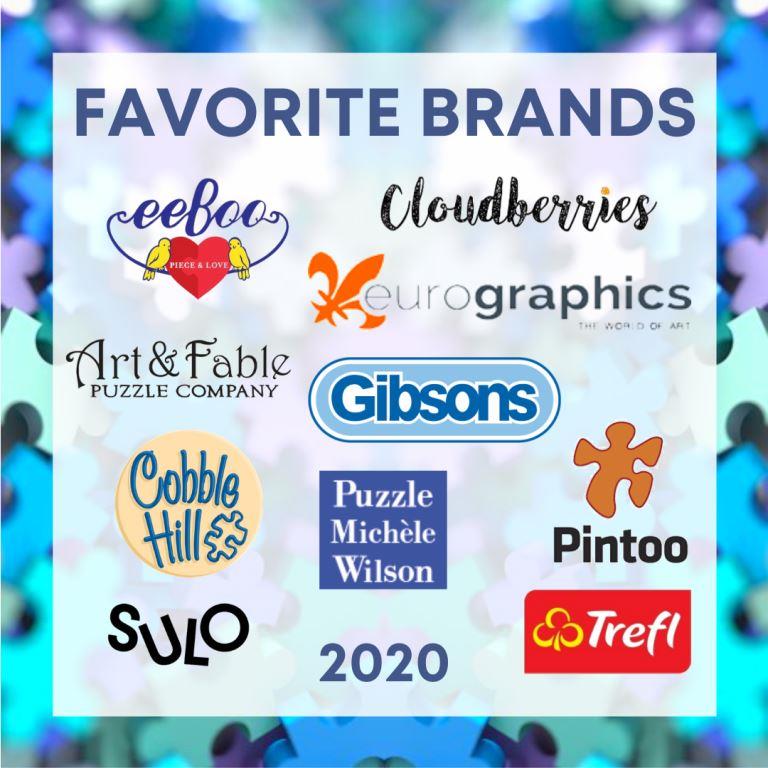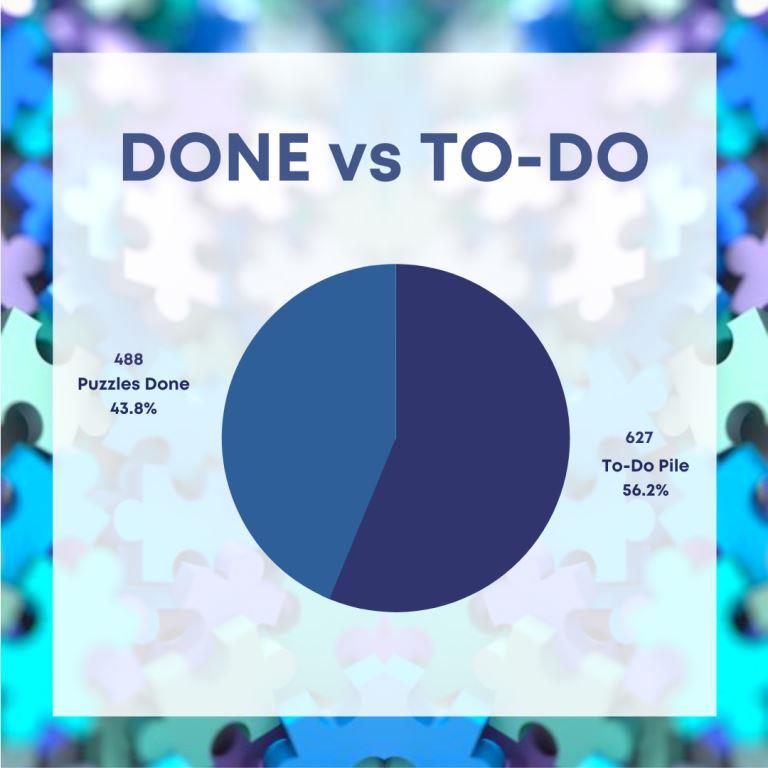 In addition to using the Puzzle Inventory to avoid buying repeated puzzles, we also use it to keep track of how many we have done and what percentage they have. At the beginning of this year, it was about 36% of puzzles done, but we have managed to advance and at the end of last year it had risen to 43.73%. My goal for 2021 is for it to exceed 50%.
As expected we have a significant space problem, but we hope to move this month and this problem improves (at least for now… haha). Yes, there will be a new puzzle room and we will probably change the shelves too. We start 2021 with new projects!
I hope you liked this synopsis of our 2020. What is your puzzle goal for this year?