OUT OF THIS WORLD PUZZLES
May 3rd, 2021
Author: Jimena G.
You might be wondering if all of the space puzzles are black background pictures of stars and planets, but lately, there is a lot more going on!
I won't lie, there are a few round puzzles about planets, a couple of black background puzzles, but we also bring you art, posters, cartoons, shaped puzzles, and a 3-D puzzle that has been released recently.
So let's jump in! Let me know in the comments which one is your personal favorite!
Click on the puzzle's name to get them!
---
Cloudberries surprised us with 500 piece 3D jigsaw puzzles a couple of months ago, and one of them is Space. They come with a couple of 3D glasses so you can share the experience with a friend!
Space was designed by illustrator Brad Albright with an old-school vibe and a gorgeous color mix.
You can look at the image and get a glimpse of the 3D puzzle experience. Definitely recommend checking this one out!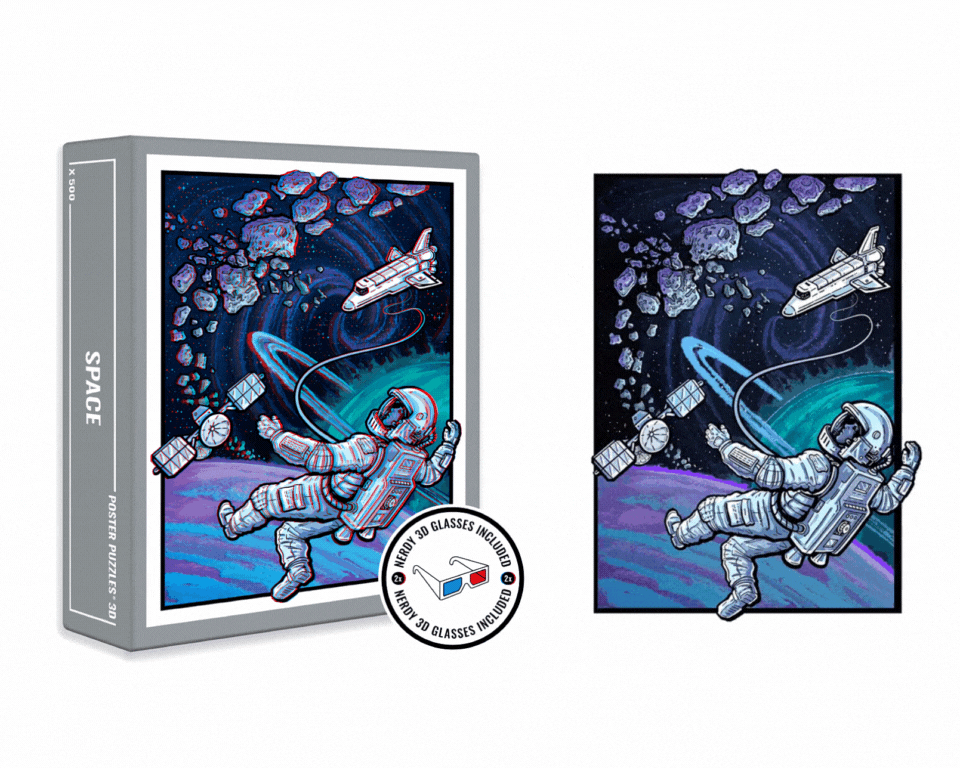 POMEGRANATE - THE ECLIPSE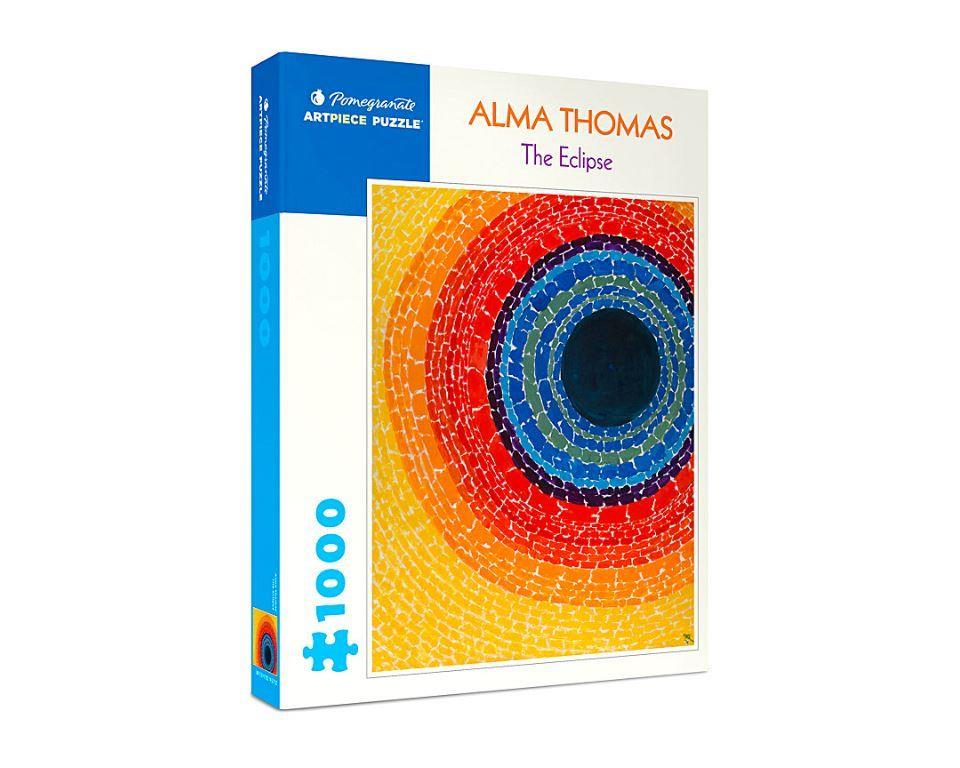 ---
Alma Thomas created Eclipse; this colorful inspired by the 1969 Moon landing. Although we might not guess this is an eclipse, at first sight, this is a perfect representation of what we can see in one.
To contrast many other dark space puzzles, this is the definition of colorful. For gradient fans, this Pomegranate jigsaw puzzle is fantastic.
BLUE KAZOO - EARTH & GALAXY SERIES
---
The Earth Series was Blue Kazoo's first collection, and it is incredible. It has three 1000 round piece puzzles - Earth, Moon, and Sun. This collection will be available soon in 250 pieces.
What did I discover as I was going through their website? In May there is a new collection coming... THE GALAXY SERIES!!! Three magical space photographs taken by NASA's Hubble Space Telescope in super high resolution. Talking about challenging puzzles - these are so hardcore!
(Note to me: I MUST have them!)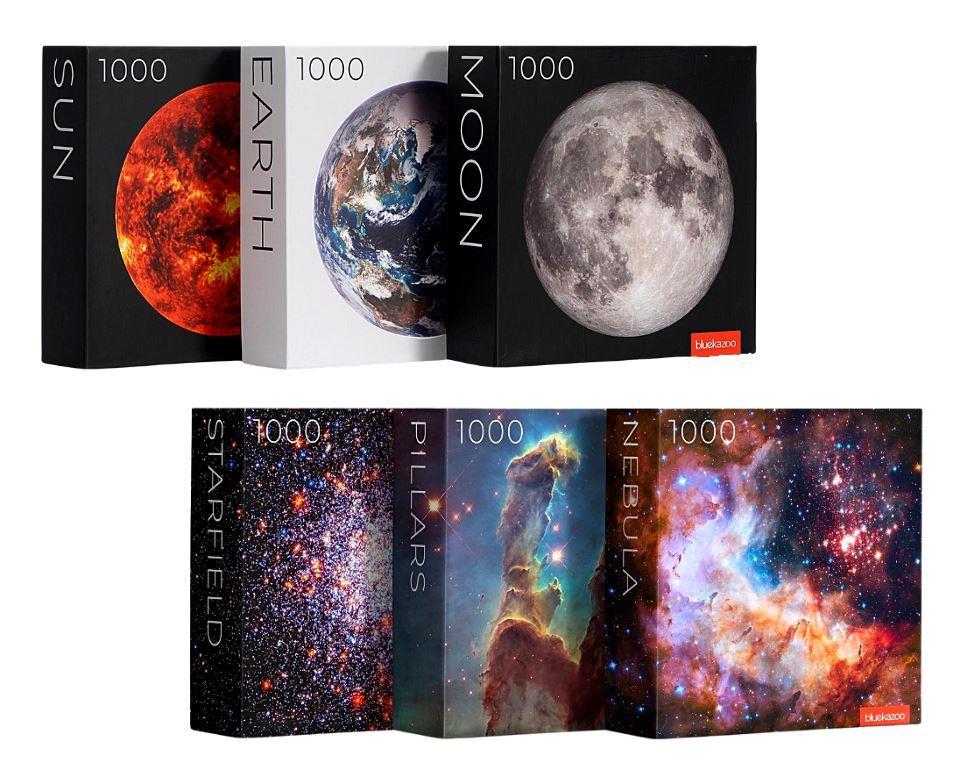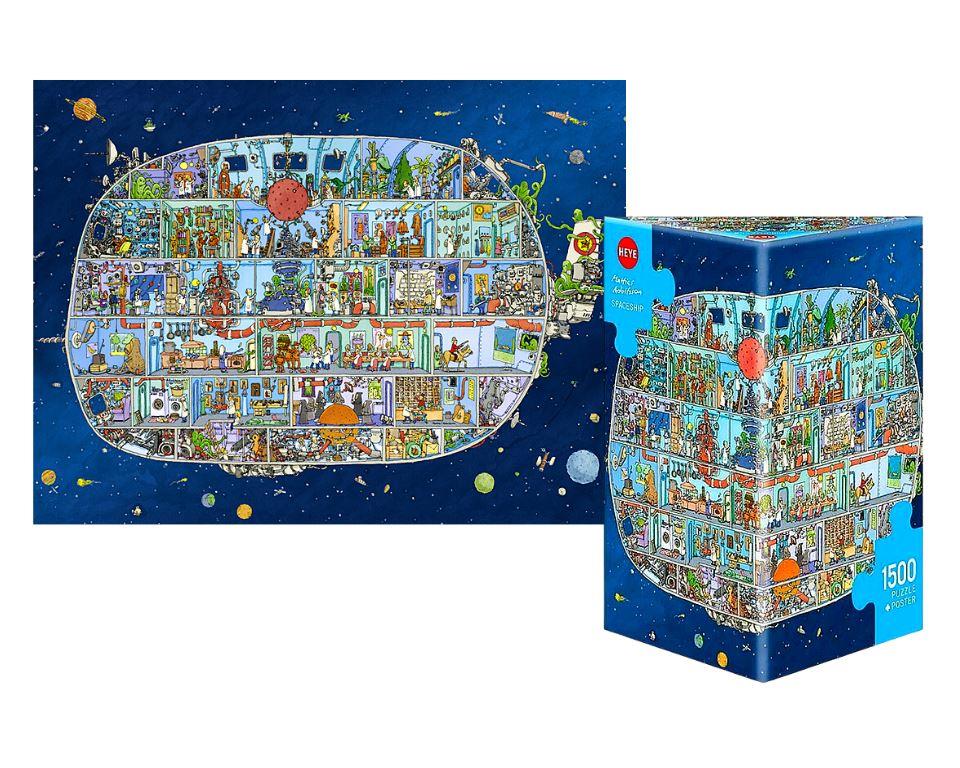 ---
It's time to sparkle some fun on this list; what better than with a cartoon puzzle! This is Mattias Adolfsson's 1500 piece puzzle "Spaceship." So many rooms with humans and aliens and hilarious situations. This puzzle comes in Heye's triangular box, which makes them perfect for presents.
Take a good look at this Spaceship; I am sure some of the characters will make you laugh.
EUROGRAPHICS - OUR PLANET & THE SOLAR SYSTEM
---
Eurographics has a vast catalog, so I picked two of their space-related puzzles for this post. The first one is the smart-cut puzzle called "Our planet". The sun coming out from behind the Earth gives it a special touch.
From their educational collection, the second puzzle is called "The Solar System", where you can see each of the planets and get some info on each one. This one has a ribbon cut - as all the panorama puzzles from this brand.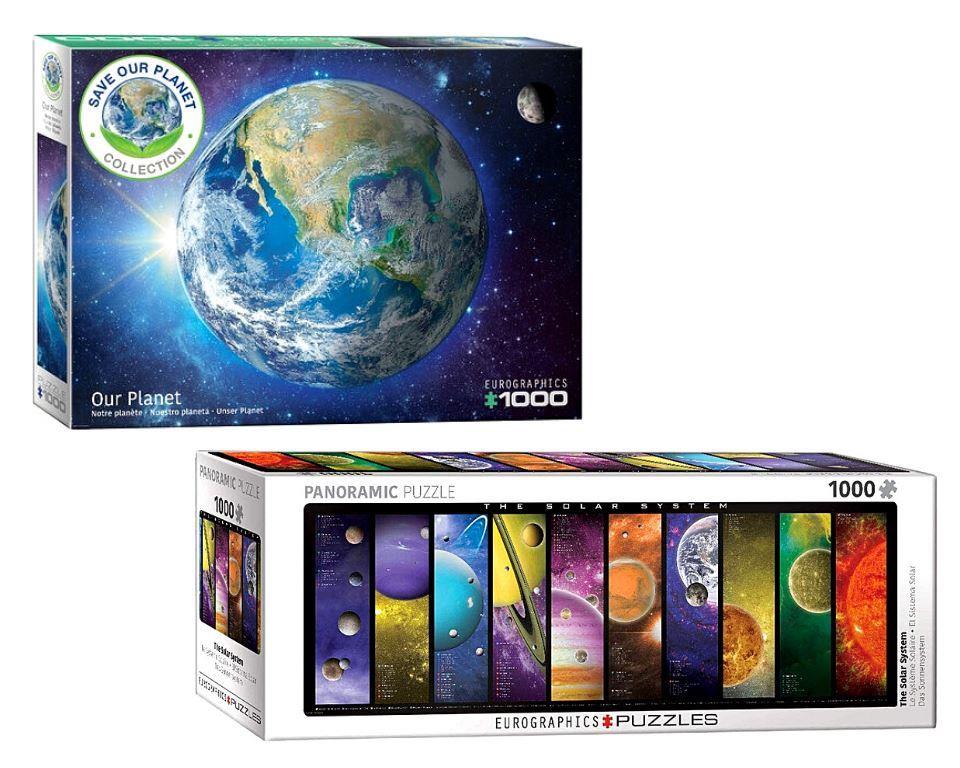 BETTERCO - SPACE MAN & MILKY WAY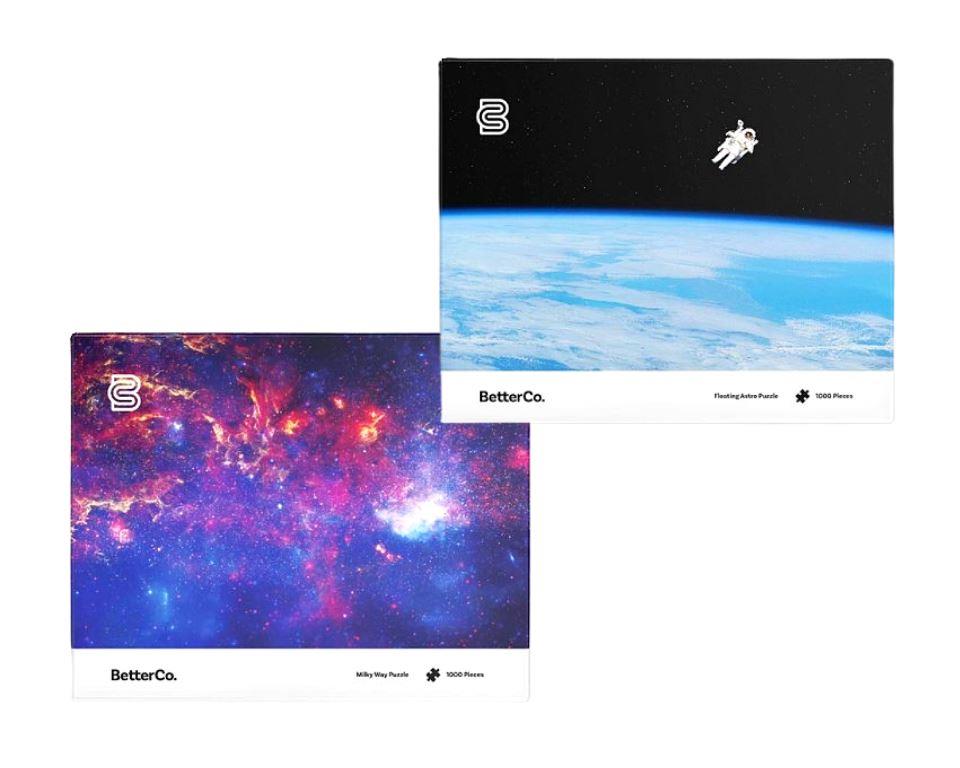 ---
Betterco has a great collection of space images; they have round planet puzzles and these two gorgeous puzzles. The Space Man looks so peacefully floating in space with the Earth in the lower back, it's a relaxing image to look at.
Milky Way is a stunning image, with blue, pink, and magenta touch on a black background. Perfect for puzzlers looking for a complex puzzle.
EDUCA - FIRST MEN ON THE MOON
---
"The First Men on the Moon" by Robert McCall - Isn't this an impressive view? a great selfie with the Earth far in the back. To be honest, this picture gives me vertigo. I got this puzzle as soon as it was released... not too sure if I will finish it because I can't stop imagining I'm in the picture, and it gives me the chills. Great puzzle from Spanish brand Educa!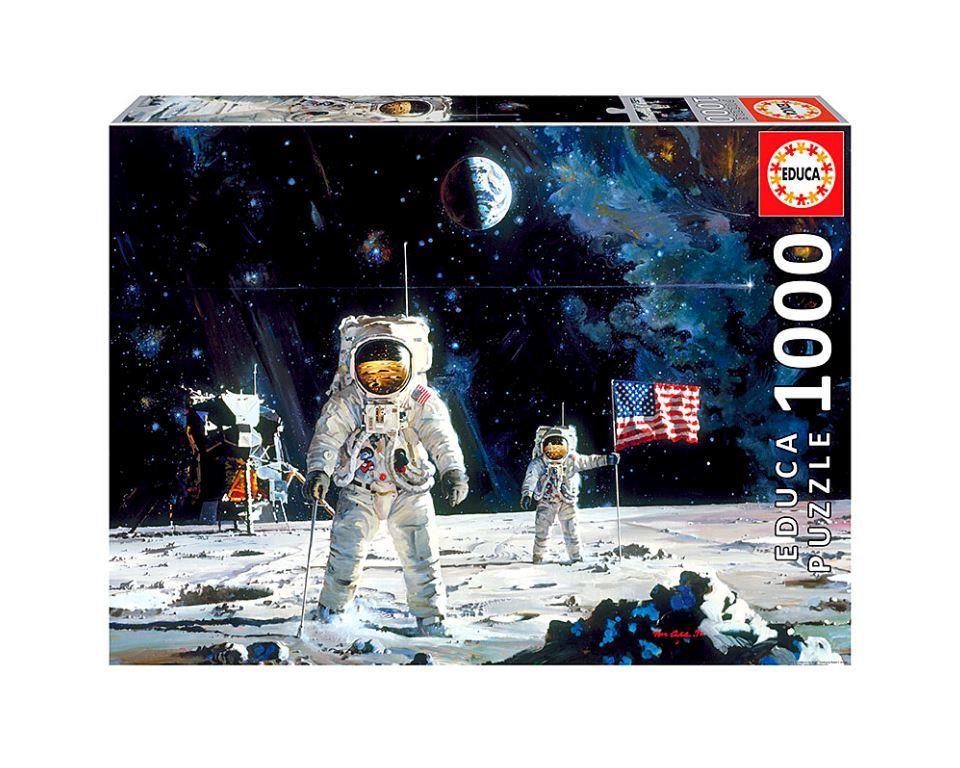 NEW YORK PUZZLE COMPANY - SPACE TRAVEL SERIES
Seventeen out of this world puzzles! Quite a collection, from black background starry images to 3D puzzles, cartoons, and art! I have made my puzzle wishlist, have you?
Let us know in the comments which are your favorites or if you are missing one!